Rice milling is a gigantic industry in India. Rice milling industry does not only mill rice. It also carries out many other essential functions, such as procurement, parboiling, drying, storage, quality control, utilization of by-products, etc. This milling is accomplished by a large number of systems from very small to very large scale. Some of these require ultramodern imported/indigenous machines based on intricate scientific principles.
PADDY

PROCESSING
The basmati paddy is procured from the region where the soil composition is rich and unique with the climate especially conducive. This gives Basmati delicate texture, flavor and aroma.
PRE

CLEANER
Cater to the great pre-cleaning problems at modern rice processing plants
PADDY

DRYERS
Paddy is uniformly dried and processed through dryer to reduce moisture content and then stored in warehouses for maturing. This basmati paddy is then used to manufacture either Raw Basmati or Par boiled Basmati.
DE

HUSKING
A fully automatic rubber roll control system which presents to rice millers the most effective and economical means of automatic rice hulling operation.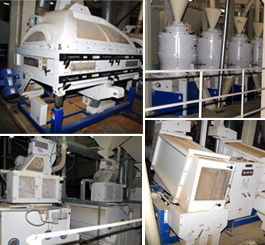 PADDY

SEPERATORS
The rice after hulling process still contains about 10-15% of paddy kernels. Once the rice mixed with 10-15% paddy is fed onto the separating trays. It is given special sideway motions as it rolls down towards the lower front end of the separating trays. This separates the rice from the paddy kernels.
POLISHERS
Polishers are so specially designed that brown rice is polished by its mutual friction among rice grains in polishing chamber to perform the even polishing effect.
GRADING

& SORTEXES
The 90000 monochromatic is the world's standard rice machine for small and large millers, removing brown grains and tip defects. The performance on yellow grain is enhanced by 90000 bichromatic, and the addition of infra-red gives the rejection of glass and other foreign matter.
FINE

CLEANERS
It is used for grading of light and heavy seeds, cereal, and granular materials. The machine is manufactured in accordance with good quality principles, in a functional design incoporating many excellent features. A machine with eminent ability to clean, and still very easy to operate.
FINAL INSPECTION

& PACKAGING
Each bag is packed and inspected under strict quality control conditions by qualified trained staff before it leaves the mill premises.